Kiyomizudera Temple
What is Kiyomizudera Temple
Kiyomizudera Temple locates in Higashiyama-ku, Kyoto City Shimizu, was built the end of the Nara period.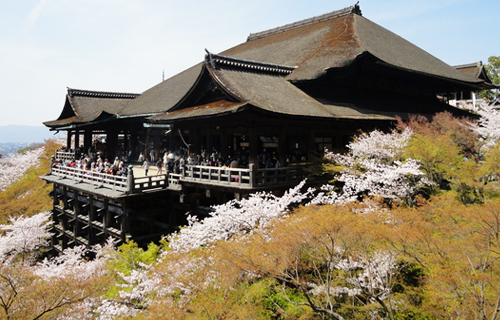 The temple is registered as UNESCO World Heritage Historic Monuments of Ancient Kyoto. It has the total site area is 130 thousand square meters, a main hall and 15 temples in there The foundation is 12 hundred yrs. before but it was burnt down by fires. Which you'll find now is rebuilt at 1633 A.D. by the most famous shogunate, Tokugawa.
Structure
Japanese say "jump off from the stage of Kiyomizu", when they make a risky decision. This idiom saying about Kiyomizu temple and its main hall has a stage used for dedication dance.
This stage has 13 meters height, is same as 4th floor of a building but you'll feel much heigher than that as the stage is built over a cliff.
Why the stage was built over the cliff? There was no stage when it founded.
Actually, the reason is simple. Kiyomizu temple was gathering faith by the time. They nedd more space. The stage uses 139 pillars of zelkova not using any nail.
These special technologies for woods are inherited until today.
Start from the crossing of Higashioji st. and Kiyomizudo st. until Kiyomizu temple, about 1.2Km slope is prepared for tourists.
As same as Arashiyama, Kiyomizu is one of the most famous touristic area for all seasons.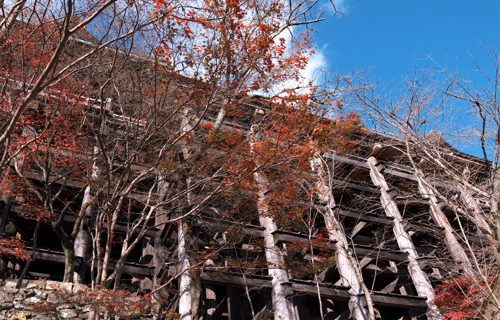 Festivals
Other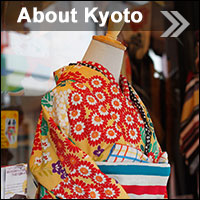 About Kyoto
Historical, custom basis, georaphical, cultural stuff of the Kyoto :)