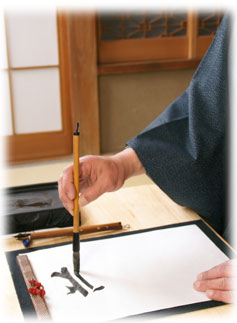 Letters developed under practical usage but as the development of culture established a way to express beauty with letters. This expression calls "Sho".shodo is based on learning a rule of the letters' beauty and to make rich and practical life expressing by your self. And on the process of the learning, make better humanity and plentiful mind. So shodo is one method of human improvement and it has been revered as one of the important art.
shodo express letters mainly using writing brush and grinded ink-cake characteristics.
In the beginning of the 20th century, shodo became a popular art and got its position. And shodo absolved other art techniques. It is normal to obtain those techniques, learning from another shodo artist "Shoka", and practicing classic shodo materials then exposure to exhibitions to brush up the sense. The most famous exhibition in Japan, "Japan Art Exhibition" has shodo categories such as Kanji, Hiragana, seal-engraving and Chowatai (Kanji and Hiragana combination).

The history of Sho in Japan started after introduction of Kanji from the continent which was invented around 5000 years ago. After that, with the development of Buhddism, under the relationship between continent and Japan, Sho developed more and more. Finally, Japanese unique system "Manyo Gana" was born, during Nara period (710-784) which is totally different from the continental one..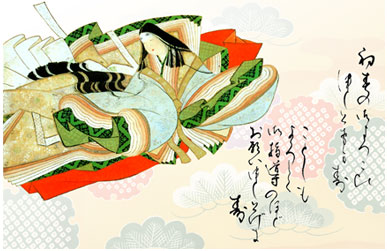 In the middle of Heian period (794-1185), women was prohibited to learn Kanji (women discrimination), and Hiragana was born. This movement helped the development of poems. There were different styles at that time but it became popular to write Japanese as now with Kanji and Hiragana. During Kamakura period (1185-1333) the Sho culture was looks like disappeared as the era was the war period. But after that, in Muromachi period, Sho culture became more popular even for decollations.
In Edo period (1603-1868), a stream was born Oie style was learned in public schools. In 1900 A.D. primary school rules was inaugurated and actual 50 syllabics was established with 48 letters of Hiragana including "nn" pronunciation.

Font of Sho
Letters as its characteristic has a practical and a convenient side. And it was changed under the demand of artistic beauty.
So depends on the period and demands, so many font was invented and disappeared. Today's font can be classified as "Tensho", "Reisho", "Kaisho", "Gyosho", and "Sosho".
If you look at shodo with imagination of variable font and expression, you can enjoy Sho with deeper understanding.

shodo with writing brush needs inkstone, writing brush, paper, ink-cake at least. These are the most basic four items.
If the ink is solid (ink-cake), it is necessary to prepare water and a witting pad in some cases.
The items are classified as sophisticated art craft as its quality such as ink stone, water jug, paperweight, etc.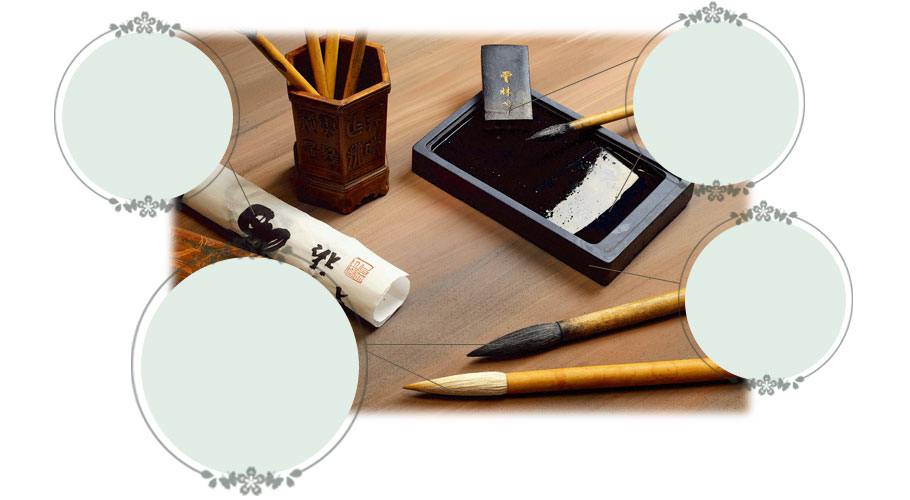 Paper
Generally, mass produced shodo paper (really thin special paper) are popular. Of course, Japanese paper and other special papers are available.
Writing brush
It uses horse, sheep, and raccoon's fur. A brand new writing brush's top is fixed with glue. Before to using brush, you have to remove glue a part of the brush (not all of them). The extent amount of removing glue is depends on the type
of writing brush.
Ink
Ink-cake for shodo is fixed plant-derived charcoal with animal glue. Normally, it prepares with ink-cake but there is liquid Chinese ink, too.
Inkstone
Suzuri is to solve ink-cake with water and keep the ink. Normally, the material is stone as the name says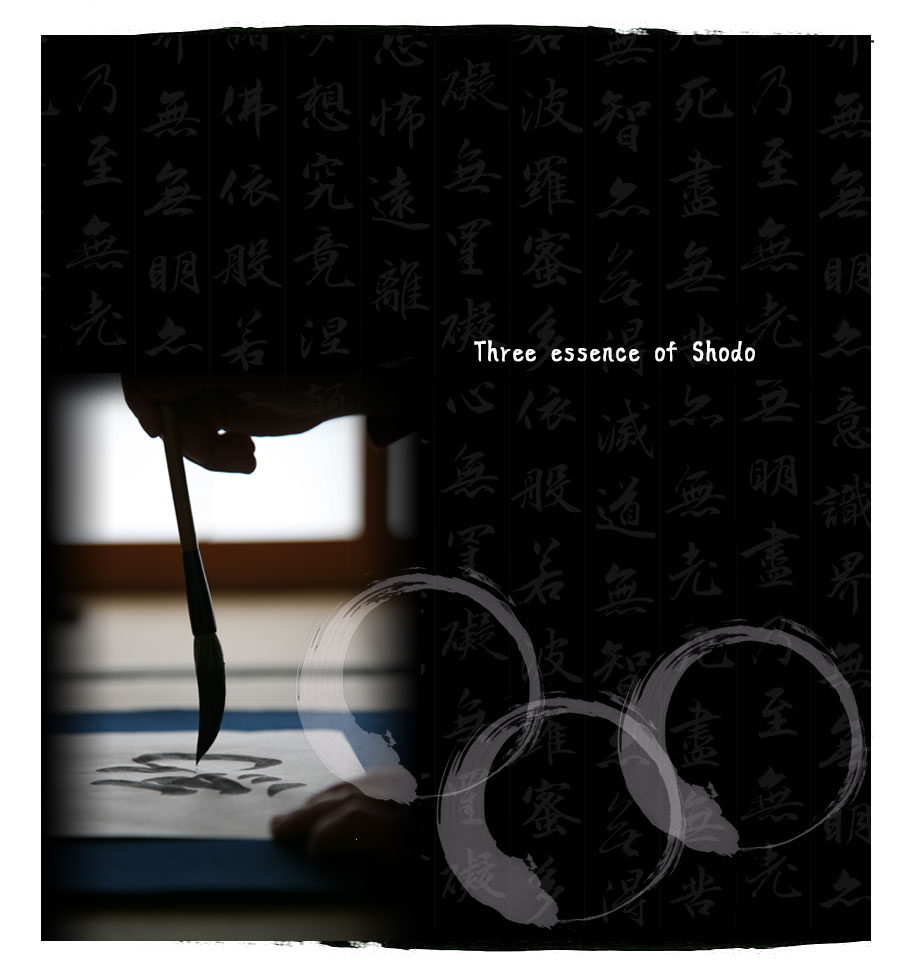 ■Posture
The each movement of shodo starts to face with letters and characters.
First of all, it is important to keep right posture. If you try to keep right posture, it helps you to feel tense, more concentration and composure to write with your mind. And also it will be easier to look over whole paper to write balanced and relaxed speaking letters.
A beautiful letters will appear from right posture.
■Preparation of Ink-cake
Lately, people use more liquid Chinese ink to keep time for general writing instead of preparing with ink-cake and water.However, prepare ink by your self is an important movement for shodo.
The preparation is to concentrate and calm the mind before the creation.Think and consider about your creation as a part of your mind..
To express shodo there are three words, "Hippo", "Hitsui" and "Hissei"The essential concept of shodo is how to express your self based on these three words.
Japanese letters has a rule and meanings one by one. How to express the beauty of letters? How to tell your feelings?
shodo could say martial arts of mind with an extremity calm concentration to put your mind on the writing brush for expression.
Hippo
Hippo means the rules and
regulation for shodo.
It says how to start, balance, line, spacing, and each parts details.
Hitsui
Hitsui is telling about feeling and expression such as emotion and passion. shodo is not just writing letters, with inner mind appears to the letters
Hissei
The power of letters with bleed, blur, and thickness or thinness calls Hissei. Which and how do you express the letters?

Professional shodo
Since long time ago, writing is one of the important courses in Japan. Actually, there are many private shodo course or writing course. The shodo masters were older but recently younger masters became popular by mass media, too.

And also, as the development of computer technology, designed shodo appeared which uses shodo creation using for many other goods not only scrolls. This industry has eyed from shodo industry as a new style.