Japanese garden
What is Japanese garden
Japanese garden is under a strict traditional regulation, planed garden and it is easy to find in temple, historical mansion, rich peoples home, hotel, public buildings, etc. The most known Japanese garden kind is "Zen" garden.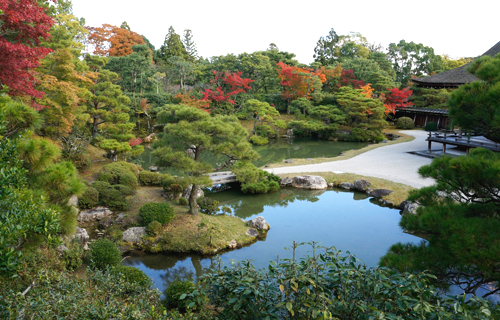 History
The Japanese Garden's history can be look back to the end of the 6th century. The ruin shows the gardens was still strong effect of Chinese gardens at that time. The transformation of expression in the garden is affected by religion and philosophy of the each period.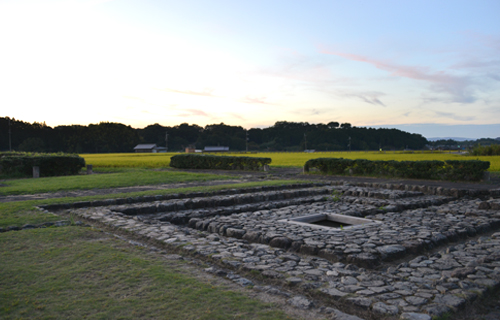 Structures and characteristics
Normally, set a pond in the middle and uses or makes difference of the height of the land. And an important thing is to set up each trees which is enjoyable for each seasons. It shouldn't have a dead month for appreciation. There are some ways to decide a title of the garden. The most popular style is to imitate a nature or religious background (atmosphere) in a garden. If it's possible locate teahouse and lamps and resting area with roof.
The most famous style as mentioned "Zen" garden uses totally different materials for construction. The mind of planning Zen garden is to avoid every extra things even a nature. The idea is simplify and reconstruct the truth in a garden. This style does not use water. The main material is rock and stone.
Generally an occidental garden makes to keep bilateral design. But Japanese garden makes with scalene triangle. And a Japanese garden takes care of three dimensional positions too.
May Japanese gardens were established in Kyoto with temples, shrines, aristocrat homes and teahouses. Because there was a perfect condition for a garden making such as sufficient currency of water (rivers), proper undulation land, variation of stone and rocks, and enough amount of demands.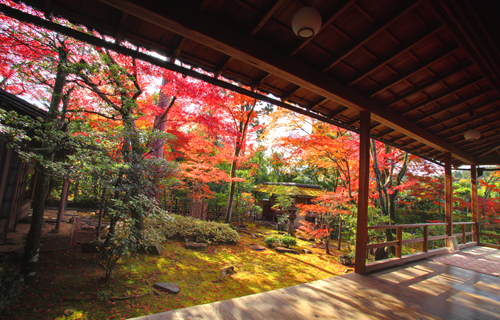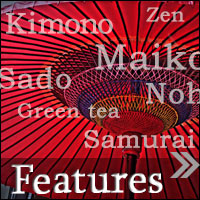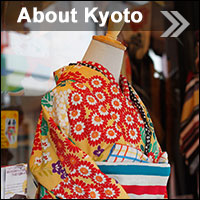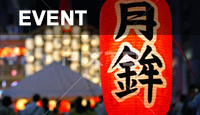 The most famous Events!
Please, look at before your travel and planning
January

Fude Hajime [2nd-4th]Kitano-tenmangu
Kemari Hajime [3rd] Shimogamo shrine
Toshi-ya [15th] Sanju-sangen-do
February

Setsubun [2nd-25th] Mibu temple
Baika Festival [25th] Kitano-tenmangu
March

Nagashi Bina [3rd] Shimogamo Shrine
April

Miyayo Odori [1st] Gion-kobu-kaburenjo
Mibu Kyogen [21st-29th] Mibu temple
May

Aoi Festival [1st] Kamigamo shrine, Shimogamo shrine
June

Kibune Festival [1st] Kibune shrine
July

Gion Festival [7th] on the corner of Shijo st. and Karasuma st.
August

Daimonji Gozan Okuribi [16th]
September

Seimei shrine Reisai [Autumnal Equinox Day] Seimei shrine
October

Mibu Kyogen [include the 2nd Mon., for 3days] Mibu temple
Era Festival [22nd] Heian Jingu
November

hitakisa [8th] Fushimi Inari Taisha
December

Joya-no Kane [31st] Kurama temple, etc.