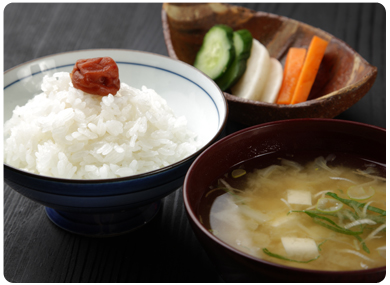 Tsukemono is an undispensable side dish for Japanese food.
It says Japanese started to eat Tsukemono around 14000 B.C.
Articles about Tsukemono appeared around 729-749 A.D.
which was mentioned Tsukemono of gourd and greens.
During Nara period Tsukemono culture start to has more variations instead of simple salty preserved vegetables.
During Muromachi period, Tsukemono start to call "Ko no mono".
During Edo period (1603-1868), invented pickles made in brine and fermented rice bran.
The basic production techniques of Edo period are developed more in Modern history.
Actual Tsukemono are aimed to health, too.

As the national classification, Tsukemono is based on vegetables, fruits, mushrooms, seaweeds. Tukemono has two classifications which is one night or shorter term pickled or short to long term pickled. And its condiment changes taste and the names such as Tsukemono of miso, salt, soy source, rice bran. The indispensable ingredient for Tsukemono is salt. When vegetables preserve with salt, vegetables became softer and comes out water. Lactic acid bacterium ferments and gives unique taste. High osmotic pressure prohibits decay.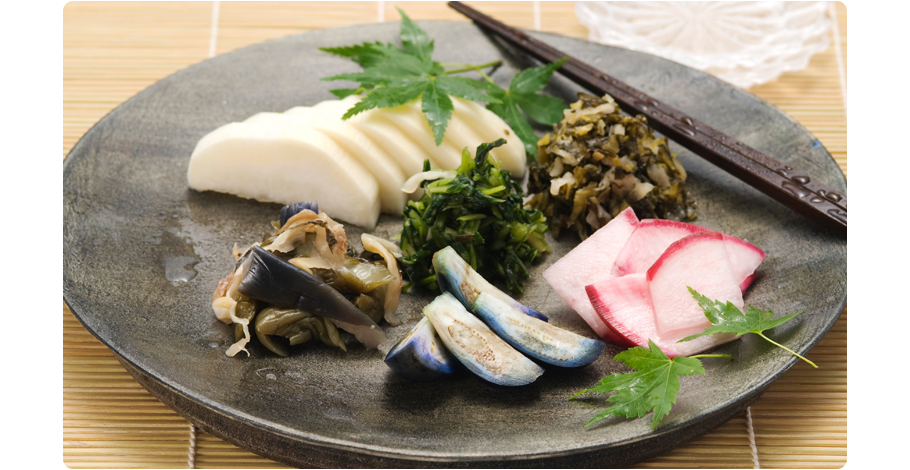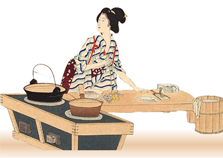 There are several types of Tsukemono in Kyoto.
People are still trying to invent a new and better Tsukemono, based on the traditional knowledge.
As Kyoto is far from sea side and its climate, the technology for preserve food production was highly developed. And Kyo Tsukemono is the result of those basements. Kyoto Tsukemono is one of the proud traditional foods in Japan.

There are three major Tsukemono in Kyoto.
the title picture of this page, "Senmaizuke" with turnip, "Suguki" which uses turnip leaf and Tsukemono of red perilla and eggplant "Shibazuke". These Tsukemono is origin of Kyoto. "Suguki" and "Shibaduke" has history of Azuchimomoyama period.
Senmaizuke invented in 19th century. Kyo Tsukemono is important for Kyoto cuisine for the end of the course. Kyo Tsukemono is polished it self as a dish in the history.

Senmaizuke was invented more than hundred years ago. The royal cook was trying to make a new dish for emperor and one day he got an idea from a local Tsukemono shop's turnip Tsukemono.
After that he runs every farm to look for a fine, excellent turnip and found a perfect turnip in "Shogoin" area.
After retirement, he opened a Tsukemono shop "Daito" for Senmaizuke.
Its excellent taste got prize in 1890 then it became really popular in Japan.
Senmaizuke is not a Tsukemono for preserving purpose.

Automn is the harvesting season for turnip. Cold air makes good and fresh turnip which has taste and good shape.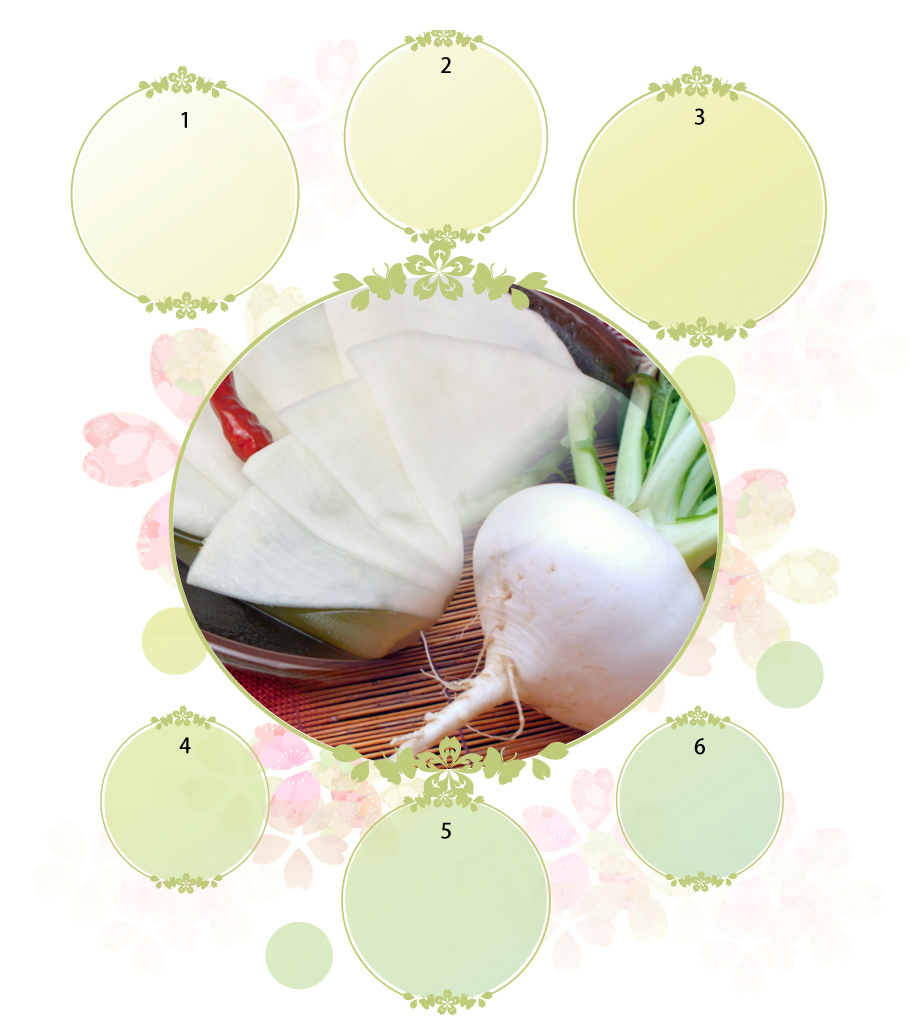 Prepare Shogoin Turnip which is a wider and larger.
Remove soil softly and gently.
Peel and wash the turnip.
Then slice them as thin as possible
(thichness is about 1 mm).
lighty salt the turnip and
prepickle them.
A barrel enter about 80to 90 sliced turnips
(about 2000 slices).
And put on a stone to press the turnip which has about 70 kilo grams.
For number three process, put each slice of turnip one by one.
after prepickling make the taste of Senmaizuke with immaturely fermentated sake, rice vinegar, seeweed.
Done.
Tasty Senmaizuke is ready to eat.

Enjoy Kyo Tsukemono with Sushi
It is popular and new style to eat Kyo Tsukemono as Sushi. Kyo Tsukemono Sushi is able to enjoy seasonal Tsukemono with its beautiful color such as eggplant for summer, Senmaizuke for winter, etc. Sushi in Kyoto takes care of seasonality as same as other Kyoto cuisine.