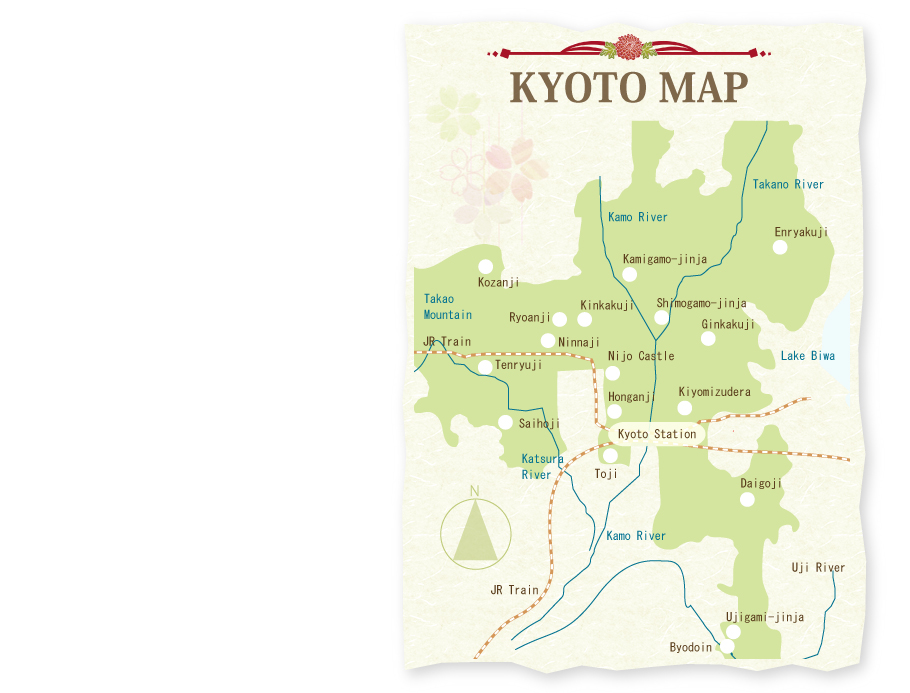 In 1994, seventeen temples, shrines and castles are registered as UNESCO World heritage.

UNESCO World Heritage is classified in three parts
of cultural heritage,
the composition inheritance, natural inheritance which should shares and leaves
it in people world widely from a past to the next generation.

Historic Monuments of Ancient Kyoto is the 5th UNESCO World Heritage in Japan.

Japanese government commends Kyoto and after strict investigation it is registered.

Accidentally the year when Kyoto was registered was the 1200 years establishment anniversary after Heiankyo as the capital of Japan with 18 others.

There are the best gardens and national treasures of Japan in Kyoto and to protect those properties is the reason.

The temple has brilliant beauty.
It is the one of the most and popular tourism point.
The origin of the temple is taken over a mountain villa by Shogun at that time to change it as government building. After the death of the Shogun it became a temple. In 1950, Kinkakuji was burned out with many national treasures. But it rebuild 5 years later.
There are many tourist points around there. We recommend to visit in early morning to take a chance to look other places , too.

It calls as " Kamigamo-jinja Shrine" which has atmosphere of imperial court at that time. This is one of the oldest shrines and it is famous of Aoi Festival which is one of the three major festivals.
Originally it was enshrined Kamo families' god but during Heian period, it appointed as protection of nation shrine.
The sand corn which easily to find is to ward off evil spirits.
Solemn and saint land involves "Sazare Ishi" stone which appears in the national anthem. This is a recommendable elegant shrine.


The only one building registered as UNESCO World Heritage except temple and shrines is this Nijo castle. It has important historical value and many people visit there.
The castle is the comprehensive survey of Azuchimomoyama period's work of arts such as gorgeous "Ninomarugoten", the hallway floor planking was specially sprung to emit creaking noises when trodden on, and etc.
The gardens have several styles which is really taking care with specialist of each garden style.
Please visit castle tower, too where has great view of the castle.

Japan where has small land there are 13 cultural heritage and 4 natural inheritance.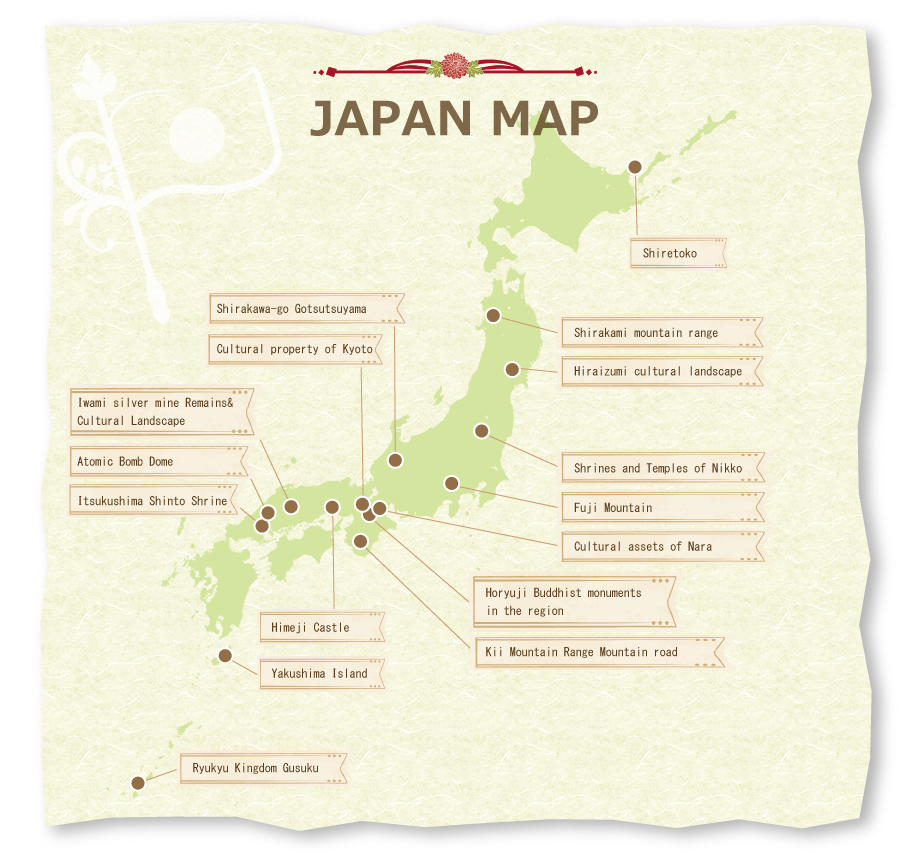 Shiretoko

Shirakami mountain range

Hiraizumi cultural landscape

Shrines and Temples of Nikko

Fuji Mountain



Cultural assets of Nara

Kii Mountain Range Mountain road

Himeji Castle

Yakushima Island

Ryukyu Kingdom Gusuku



Itsukushima Shinto Shrine

Atomic Bomb Dome

Iwami silver mine Remains

Cultural property of Kyoto

Shirakawa-go Gotsutsuyama